Celebrating the buzz and excitement around the Olympic games across the country, Google has unveiled a set of enhanced features to bring alive the Olympic mood among Indian fans. Google announced a set of new features for the Rio Olympics 2016, which are to take place in Rio de Janeiro, Brazil so that it helps people to follow the games.
When you search for Olympics on google or with a similar query, a deep search result will be displayed at the top of the search page or in your Google app.
People can easily find information on the Olympics in search, including details on the event schedules, athletes, and the medal count. You can also sign up for automatic alerts through the google app available on iOS and Android. It will help the users to follow the games in real time.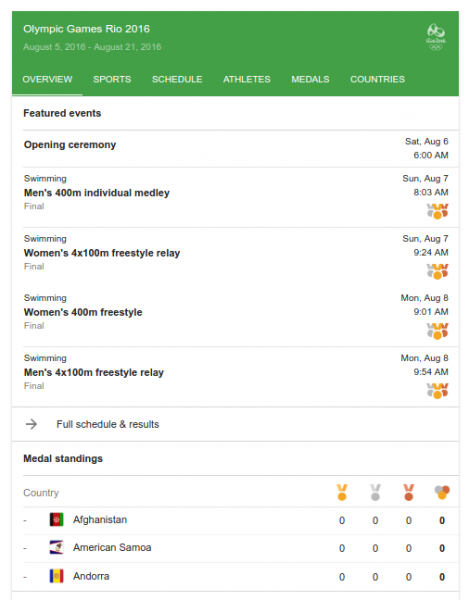 The new set of features will help bring fans closer to knowing more about their favourite athletes and sports disciplines. Fans across the country can even choose to get automatic updates on top event and medal wins.
Partnerships with broadcasters have been done in more than 60 countries, including the BBC (UK), America Movil (Latin America excluding Brazil), NHK (Japan). It will also try to viral the event highlights if possible via YouTube from selected broadcasters in more than 60 countries, as well as mobile live streams from 15 YouTube Creators chosen to cover the games.
Additionally, Google is also trying to promote its enhanced "Street View" facility in Google Maps which allows the user to preview the places in Rio and the stadiums where the world's most talented athletes will make history in their respective fields. It also explores the spectacular beauty of Brazil.
To add up to the excitement of the viewers, Google will be showcasing some unique Olympics-based search trends. It will keep the people updated with the latest search trends from around the world. With all the latest trends it will also give insights about it with data visualizations.
Thus Google is trying its best through its search and apps to such an extent that the people all round the world can enjoy the Rio Olympics in the same exact manner in which they want.
Featured Image Courtesy: News.com.au