Tanmay Bhat is a well-known name. He is a comedian, scriptwriter, and performer. He has very much marked his presence on YouTube and Television. But Tanmay didn't turn into a star overnight, a lot of effort and hard work has gone into this popularity that Tanmay currently owns.
Here are the 13 things that you need to know about Tanmay Bhat who has turned criticism into motivation for himself and has yielded fame from it:
Basics
Tanmay was born on 23rd July 1987 in Mumbai, Maharashtra. He is 29 years old as of now and his sun sign is cancer.
Education 
Bhat went to Seth Chunilal Damodardas Barfiwala Highschool, Mumbai. He was a hard working student and would top in his school and college.
Initially, he wanted to become a Marine Engineer but later he realized his true passion was comedy and geared his career accordingly.
Tanmay has had to face a lot of fat shaming since when he was a kid. In his interview with Humans Of Bombay, he mentioned growing up in a small middle-class family amongst Engineers and Doctors. He said that he has always been overweight and he used humor as a self-defense mechanism. He loved being the class clown and liked being referred to as 'funny'.
A Life Transforming Event
In the same interview, Tanmay discussed a significant event of his life which changed his attitude towards life. Although Bhat's parents were very supportive, they were concerned about their son's weight. In 8th standard, they bought him a cycle and encouraged him to lose 5 kgs in 6 months. Even though they didn't pressurize Tanmay but he saw it as an admission of a huge flaw. He recalled cycling and weeping, and wondering if he could not even lose 5 kgs in life, then what is he really capable of.
But eventually, he turned this challenge into an opportunity and worked really hard. He excelled academically and ultimately gave up on the idea of Marine Engineering, only to do what he thought suits him best i.e. comedy. He would participate in events that nobody else would apply for and would attend every other festival, just to perform and get on stage.
By the age of 18, he had already written for Mumbai Mirror and by the time he attained the age of 25, 15 T.V shows were written by him.
 The Birth of A Comedian
Tanmay claims that the first time when his comedy instincts kicked in was when he was in 7th grade. There was some function in his apartment and he somehow gathered the courage to convince the organizers to hand over the stage to him for 5 minutes. He told them that he cannot dance or do kart wheels but he sure as hell can make people laugh. Finally, when Tanmay got to perform, he rocked it and was lauded with multiple rounds of applause. His performance went on for 20 long minutes.
Later in his life when Kavi Shastri advised Tanmay to talk about who he is, that is when, as Tanmay would call it, his first legit standup comedy took place. For 20 minutes he went on talking about how it is to be a fat person and people couldn't stop laughing. Audience's enthusiastic response and auditoriums echoing with laughter soon became a drug for Tanmay and he realized he is meant to be none other than a comedian.
Tanmay made his debut in the year 2009 winning the Weirdass Ham-ateur Night. This was a nationwide competition organized by Weirdass Comedy which is a consultancy for comedians run by Vir Das.
The AIB
Tanmay Bhat went on to become the co-founder of India's first comedy podcast- All India Bakchod popularly known as AIB founded in the year 2012. YouTube channel AIB currently has around 2 Million subscribers.
Other Achievements
He was one of the first four Indian comedians to be featured at Mumbai's first all-Indian Comedian Line Up- the Comedy Store titled Local Heroes. 
He has also performed with artists from UK in the Best In Stand Up event. He was named as one of the "Top 10 Comic" by the Times of India. Tanmay has also played short roles in movies like Ragini MMS and MR. X. Tanmay is also a part of
Tanmay is also a part of Weirdass Comedy, a comedy company that writes and performs comedy acts. He also did opening Stand Up acts for Vir Das on his Walking On Broken Das Tour. Bhat is also a part of Cardinal Bengans, an improvisational troupe consisting of theater artists and comedians.
 Notable Performances 
Although, Tanmay's performance in every webisode has been commendable. But here we would like to specially mention his Snapchat rant on Feminism. He outlines the basic underlying concept of feminism with such ease. The video has gone viral with nearly 1000 shares and over 90,000 views. Watch it here:
Tanmay has also performed for corporate giants like Times Of India, BBC, British Airways, Vodafone, Tribal Fusion and Audi.
Controversies
Tanmay is more often than not in news for the wrong things given his unapologetic humor that leaves nobody out. One of the well-known controversies has been Tanmay's Snapchat video about an imaginary conversation between Lata Mangeshkar and Sachin Tendulkar.
Due to such an overwhelmingly devoted fan following of both these pioneers of their fields, Tanmay was criticized vehemently by a large population of people. Although Lata Ji wasn't as angry as her fans, political parties like BJP and MNS filed a police complaint against Tanmay Bhatt and Shiv Sena went overboard to call Tanmay 'Mentally deranged'.
For some strange reason, Mumbai Police gave a swift reaction to this harmless video promising to ask YouTube and Google to ban his video. All this while Tanmay has remained remarkably calm despite the best efforts of the "daily rage labourers" (the hilariously apt descriptor coined by AIB in its video Unoffended). In fact, Tanmay also tweeted asking Snapchat to pay him for the gain in traffic. Watch this video here:
https://www.youtube.com/watch?v=AIo38bgveoY
Tanmay is also very active on Twitter and once he mocked Priyanka Chopra for her accent. Although Priyanka gave an equally witty reply but her fans didn't take Tanmay's tweet in a very nice way.
Later, Priyanka herself had to jump in the scene to calm her fans down and defend Tanmay saying it was all just a joke.
When I say @priyankachopra's name in my head I now automatically pronounce it like "Priyaaaanka Chopruh"

— Tanmay Bhat (@thetanmay) July 27, 2016
To which Priyanka replied
I'm supposed to have the accent @thetanmay what happened to u? Lol https://t.co/xwu6a5KWhi

— PRIYANKA (@priyankachopra) July 27, 2016
Tanmay was also a part of AIB Knockout which was a roast comedy show that featured stars like Ranveer Singh, Arjun Kapoor, Karan Johar etc. The bold and brazen nature of the show had received a critical response from varioSinghctions of the society.
Fan Following
Tanmay is pretty active on Twitter with around 3 Million followers (@thetanmay). Tanmay's Facebook page flaunts a fan base of around Four Hundred Thousand (@tanmaycomedy). You can also follow him on his Snapchat ID – @thetanmay.
Idols
Tanmay has been a huge fan of Johnny Lever since when he was a child. In fact, he was so obsessed with Johnny that he would mimic and deliver his jokes with ease for hours. His favorite comedian is Russell Peters. Bhat is highly inspired by personalities like Raju Shrivastava, Jerry Seinfeld, Chis Rock, George Carlin, Loius CK, and Patrice O'Neil.
Love Life
Sources have it that Tanmay has been in a relationship with Rega Jha for a very long time. Rega Jha is the editorial head BuzzFeed India.
Doing It Right
Tanmay has been subject to body shaming many times but he has always thanked people for calling him fat because if they hadn't then he wouldn't have strived and worked harder for becoming what he has become. He is glad to hear criticisms because it only makes him do better.
When people troll me for being fat on twitter I actually reply saying, 'thank you' because if I wasn't fat I would have never worked this hard. I say thank you because I have an entire career because of it. I say thank you, because if it wasn't for those jokes, I wouldn't have had that much anger in me to go out there and kill it."
The Man With The Balls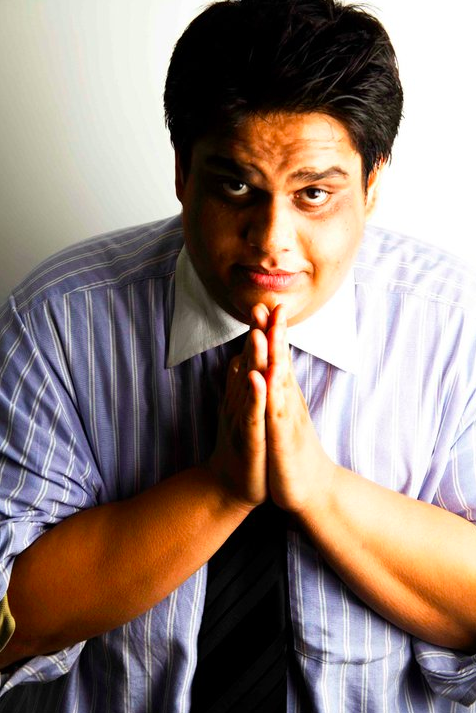 But nevertheless, Tanmay hasn't kept himself from attempting to lose weight. Tanmay took the challenge of following a strict Keto diet to loose almost 109 kgs in less than 12 months. This makes him an inspiration for all those who have been willing to lose weight but lack motivation. Here's what Tanmay's dietician Ranveer Allahabadia had to say about Tanmay's weight losing episode: