The dispute between India and Pakistan has taken an ugly turn. It has crossed the borders and reached the entertainment industry. Workers and members of the MNS party of India have demanded that the Pakistani artists must be sent back as a symbol of fury and rage. This has resulted in a turbulence in the industry.
There are different opinions to the whole scenario. As always, there are also some gossip mongers who have made controversial statements for five minutes of fame.
We bring to you the list of 10 such stars who have made the headlines because of their statements.
Om Puri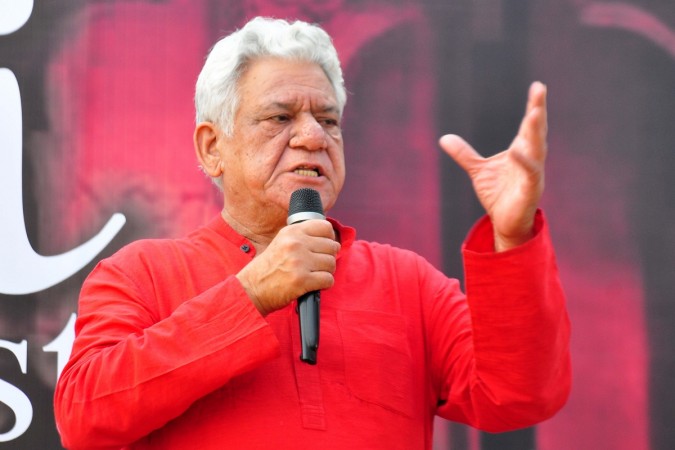 Om Puri attended a debate based on this issue of ban on Pakistani actors. He ended up saying, "Who had asked the soldiers to join the army? Who told them to pick the weapons?" This statement can be interpreted in several ways. The problem was that he actually did not mean it in the right way.
Salman Khan
Salman Khan is not a new name to controversies. They are a part of his life now. This can be one reason because of which his name is in this list. He made a statement that, "They are artists. We have killed the terrorists. Artists are not terrorists. These are two different subjects. They come to our country after acquiring visa, and it's our government who allows them with the work permit in our country."
Nana Patekar
"Pakistani actors and others come later, first comes my country. Actors are like bed bugs in front of the country, we don't have any worth. No hero can be better than the soldiers. We actors are just common people, the real heroes are our soldiers. Don't pay attention to what we say, don't give this much importance to anyone. And those who keep on speaking, they don't deserve that much importance." This is what was said by Mr. Patekar. Though this comes out as an ironical statement because of his own profession.
Ranbir Kapoor
After being absent from the lime light for a long time, the junior Kapoor shared his opinions on this issue. "We are living in some hard times right now. I hope that [people] don't get swept away with the bitterness and negativity, the violence that's happening around the world and around us." Yes sir, that indeed was preachy.
Mahesh Bhatt
Mahesh Bhatt is now the other name of controversy. Every time he speaks up, he chooses a controversial topic. Then he makes headlines. This is what his views were, "Kill terrorists not talks. Do not let the actions of a few violent men dictate the future of many people, like me who want peace".
Karan Johar
"I understand the anger and the anguish that surround us and I empathise, my heart bleeds for the lost lives. There is nothing that can justify this terrible feeling of terror. Then you are faced in a situation such as this (asking for ban on Pakistani artistes). If this was truly a solution, then one would take it. But this is not a solution. I don't believe it is. The larger forces have to come together and sort the situation and this cannot be banning talent or art" This is what Johar had to say for protecting the little cameo that Fawad is doing in his latest production. We do not know the reason. But we can assume.
Saif Ali Khan
"The world is open to our film industry and our film industry is open to talents from around the world especially (across the) border. We are artists who talk about love and peace." Khan was really kind to make this statement. We say so because his own movie was banned in Pakistan. Phantom could not get a Pakistani audience.
Kangana Ranaut
"Right now, we are experiencing grave emotions of the loss of the lives of our soldiers. So the country is not in that (frame of mind). It's very hard to be objective right now… (though) we hope that love and art prevail. Right now we can't expect people to be objective. It's such a big loss." Ranaut tried hard to be unequivocal. Finally, ended up making controversial comments.
Randeep Hooda
Hooda tweeted his emotions. Maintaining his reputation, his stance was straight forward.  "We are trying to isolate Pakistan economically and diplomatically, so the cultural isolation must follow." Randeep was honest about the issue and hence ended up being controversial.
Pahlaj Nihalani
Nihalani is that one man who becomes controversial when he tries not to. He has been much talked about because of the technicalities of certification. Probably this became the reason why he took a technical stance. "Who are these people asking for a ban?" Nihalani asked. "By whose authority are they asking for this ban? Not one producer member of IMPPA is working with a Pakistani artist. The ones who stand to lose heavily from such a ban are Karan Johar and Ritesh Sidhwani, who have almost completed films with Pakistani artistes." Point noted sir.
Write your own views to us in the comment box below!