It's that time of the year again folks. Apple ceremoniously flaunted their newest release but it turns out that the actual showstopper was the iPhone X. It will be available in Space Gray and Silver for now.
Eager buyers waiting long lines for days and weeks. All tech channels focusing their attention on one thing alone. Android users over the internet talking about how they've got the best phone deal and a complete deal of other shenanigans.
But Before Deciding Whether To Buy, Have A Look At Some Of The Shocking Facts Behind It
The iPhone X (along with the iPhone 8 and iPhone 8 Plus) will be the first to have fast charging capabilities which already exists on Android devices. Apple promises a 50% charge in 30 minutes.
Storing has become a secondary issue as the new phones support  HEIF(high-efficiency image format) and HEVC (high-efficiency video compression) formats. This allows for better compression and booting.
Never fear of being lost on a desolate island. The phones have been synced with the new Galileo satellite system. Apple also plans to introduce  QZSS for better positioning for those Asia-Pacific regions.
Apple made its debut into wireless charging through the popular Qi ecosystem making it compatible with most wireless charging docks.
iPhone X is powered by the latest A11 Bionic processor which led Apple to brag a 35 per cent faster speed.
Continuing its trend of removing hardware features, Apple removed the home button. But it's been replaced with a simple swipe up that takes you back to the home screen.
Fingerprint scans are an age old opening mechanism. Apple has replaced it with a facial and optical detection system.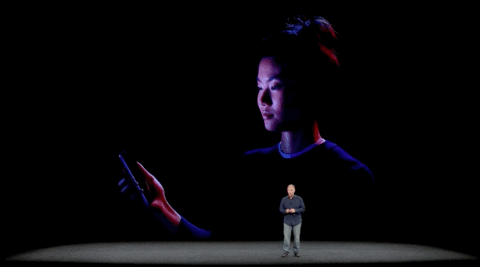 In terms of brightness, the iPhone X screen illuminates at 625 nits. Still nowhere near bright the Samsung Galaxy Note 8 that has 1,240 nits.
The phones have an updated 12-megapixel dual-lens cameras on the rear amplifying the photography and making augmented reality more immersive.
The iPhone X is slated for a price of $999 and too only for the 64GB version. Speculators suggest that the 256GB iPhone X will cost around $1,149.
Apple gifted TruDepth for the emoji lovers. The camera captures and analyses nearly 50 different facial muscle movements and turns them into animations and emojis.
The screen has been dubbed a 'Super Retina Display'. It's a 1125×2436 OLED display allegedly made by Samsung.
The iPhone X has a special double-check feature to check whether you're using the phone before shutting it. And if it detects that you're using it, it won't play loud alert sounds.
The phones have two 12 MP cameras equipped with wide-angle and telephoto cameras on iPhone X. This enables it with optical zoom and a  digital zoom of up to 10x for photos and 6x for videos.
Physical dimensions extend to 143.6 x 70.9 x 7.7 mm (5.65 x 2.79 x 0.30 in) and a light weight of around 174 g.
Are you going to buy this iPhone? Share your views in the comment section below.