Paratha is a flatbread that first came to be known in the Indian subcontinent. It is still quite prevalent in the north of India, where wheat is grown and is the traditional staple of the area. It is made from atta and a dough is made of it. There are various types of parathas made with different fillings like potatoes, egg, gobi, onion, paneer etc. They are generally cooked with a lot of oil and served with extra butter.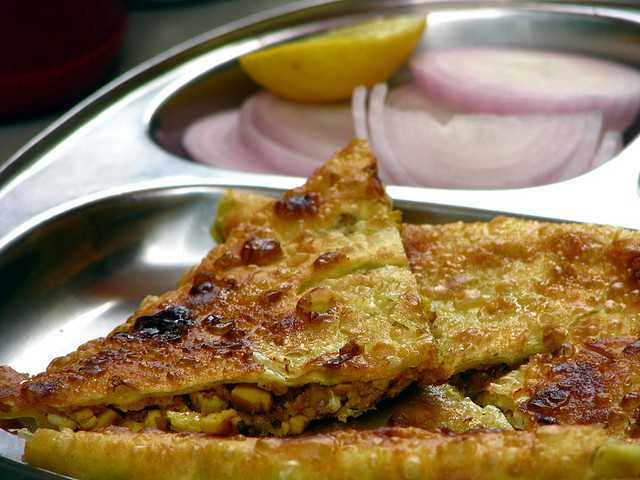 Some of the famous places which serve kickass parathas are mentioned below.
Parathewali Gali, Delhi
Delhi is famous for its street food. Paranthewali Gali which is located in Chandni Chowk in Delhi is the most famous place in the country for varieties of parathas. You will get every type of parathas in the shops situated on this street. People from all over the world come to visit this street and have a quick bite of these delicious kickass parathas.
Anadi Cabin, Jawaharlal Nehru Road, Kolkata
Here you will find the rotis which are stuffed with various types of vegetables. You will also find parathas which are stuffed with various types of chicken keema or broken cutlets. Many parathas are made with eggs and onions which are stuffed in the dough. Anadi Cabin serves the cheapest Mughlai parathas and adds a different type of flavor in the street food of Kolkata.
Jassi de Parathe, Ahmedabad
Ahmedabad is a heaven for all the food lovers. You will find very good food joints in every corner of a street. Whenever you visit Ahmedabad, don't forget to try out the famous and tasty parathas of "Jassi de Parathe". With a plate of parathas do go for a glass of lassi for a mesmerising experience.
Good Food Kitchen, Pune
This eatery place is a common hangout place for people of Pune and is loved by them for the type of parathas which it serves. People can enjoy a lavish meal and that too which is not very expensive and is even affordable to a middle-class family. You can even get dollops of butter on your parathas. In Good Food Kitchen, you also get a combo of parathas, where you get four types of parathas served on a platter. With parathas on the menu, they also serve various other food items like pasta, noodles and much more. When you are in Pune and are craving for parathas, Good Food Kitchen is the ultimate place to run to.
Indian Paratha Company, Bangalore
This place is 120 km from the Hebbal flyover on the Lepakshi road. You can find Indian Paratha Company just before the Nandi Hills. This is the place which makes you believe that you can even find parathas in the south. This is the place where you will find exotic types of parathas made from almost everything. When you are going to Nandi hills, don't forget to stop by at this place and to try its mind-blowing parathas.
Kesar da Dhaba, Amritsar
This is a pure vegetarian food joint which you will find on the streets of Amritsar. By going through all those small lanes you will see this place. This is a century old dhaba and is mainly famous for its laccha parathas, which are soft from inside and crispy from outside. They serve their parathas with a special daal which you'll only find here. These kickass parathas are served with dollops of ghee and they also give a glass full of lassi with each plate of paratha.
Mayur Dhaba, Karnal
The best way to reach Shimla is from Delhi by road. You will find various dhabas on the way to Shimla and one such dhaba is Mayur Dhaba. It serves exotic type of parathas.  Along with its parathas, people must try it dal makhani. It is a perfect stop over for lunch and dinner when en route from Delhi to Shimla.
Mukesh Dhaba, Gurgaon
This dhaba is situated on NH8 and serves amazing quality of parathas and that too at very nominal rates. You will find this on the highway and can stop there for tasting its delicious parathas.
Keema and Seekh Parathas at Sarvi, Mumbai
This place combines its ingredients in such a way that it provides the best breakfast meal to a person. You will enjoy while eating their parathas and would never ever forget the taste.
Lucky Dhaba, Jalandhar
There are very good dhabas you can find on the road from Jalandhar to Amritsar. You will find this dhaba en route to Haveli, Jalandhar. It serves various combinations of parathas with a variety of dals.
If you know more food joints which are famous for their parathas then do share with us.