South Sudan is faced with yet another war like situation and the causes are rather confusing. While both the rival leaders claim to be on the side of peace, it came only after the death and displacement of hundreds. 
History
South Sudan, the youngest country in the world, has a history of ethnic conflicts. The two main ethnic groups, Dinka and Nuer, can be seen fighting over the monopoly of power more often than not.
Get latest updates straight to your inbox.
Subscribe to our mailing list and get interesting stuff and updates to your email inbox.
Earlier in December'13 a power struggle had broken out between president Kiir and vice president Riek Machar leading to the South Sudanese civil war; wherein Riek had to ultimately flee the country. Allegedly, Riek, had plans to lead a coup d'etat. After prolonged armed confrontation, a peace agreement was signed with the help of United Nations, resulting in Kiir, leader of Dinka community, resuming his presidency, and Machar, leader of Nuer community accepting the post of vice president.
Present
According to 'Sudan Tribune', the tension really arose after a clash between security forces of Kiir and Machar on Thursday 7th of July. Soon after, a meeting between the president and vice president was scheduled on 8th July to discuss the matter. While the meeting was going on, heavy shooting started near the presidential palace in the capital city, Juba. Regardless, both the south Sudanese leaders called for calm and an investigation was ordered into the deadly clash by the president.
Although, the fight resumed in the capital day after, at the base of opposition faction of Sudan people's liberation (IO) party which also happens to be the residence of the vice president. Sudan people's liberation (IO) party claimed it to be an attack by the forces loyal to President Kiir and a conspiracy to kill the VP.
UN Outraged
A unilateral ceasefire was declared by the rival leaders under international pressure. UN was excessively outraged by the killing of UN peacekeeping officers, attacks on UN compounds and displacement of hundreds of people due to violence. UN also called for an arms embargo in South Sudan, which was rejected by President Kiir on grounds of violation of country's sovereignty. The South Sudanese president also refused to accept any more peacekeeping officers, rendering it unnecessary.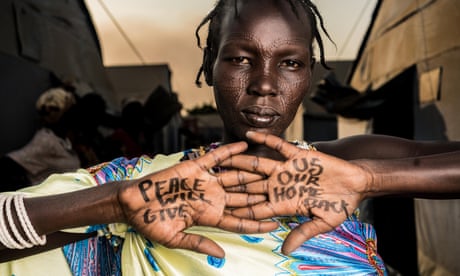 Evacuations
UN has reported 300 deaths and 4200 people moving out of South Sudan up till now.
Though the ceasefire has been holding just fine, several countries like India, America, Sudan, Uganda, etc. have decided to evacuate their citizens before the further escalation of violence.
Operation Sankat Mochan
India has launched 'operation Sankat Mochan' to rescue 500 Indians from SS. Two c17 air crafts with a team under the leadership of Minister of State for External Affairs V. K Singh, were sent to evacuate Indians.
While nearly 500 people were ready to depart from SS, 300 declined to be airlifted on the morning of actual evacuation owing to the ceasefire being held in place for quite some time now. Sushma swaraj, Minister of External Affairs, appealed to the Indians in SS to take advantage of the opportunity and leave the country now. Ministry emphasized that the people left behind after the operation will have to fend for themselves.
Get latest updates straight to your inbox.
Subscribe to our mailing list and get interesting stuff and updates to your email inbox.