A young secessionist leader, Burhan Wani, also a member of Hizbul Mujahideen, was killed last saturday  in an encounter in Kokernag area, south-east of Srinagar.
His death led to widespread violence in Kashmir leading to the imposition of curfew, wherein all mobile networks, Internet and public transport has been called off.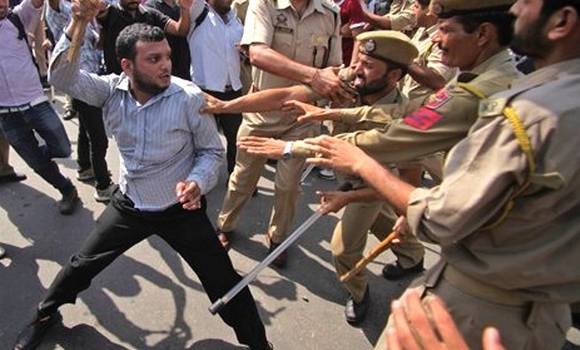 Despite of the curfew, tens of thousands of people attended Wani's funeral. Police men and bjp offices has been attacked by the mob. Armed confrontation between the police and the protestors has increased the death toll to 25, and more than 350 people are injured, in which more than 115 are military men. Reports claim that the Israeli-style metal pellets has been used against the demonstrators, consequently blinding them.
Who was Burhan Wani?
According to the police Burhan Wani was a terrorist, who was conducive for local boys taking up arms. But for the locals wani was the representative of Kashmiri aspirations.
Wani was very active on social media and his videos highlighted the Indian injustices. He called for a movement against oppression. In his last video,  he had warned the police against consequences if they tried to interrupt his so called 'freedom struggle'.
Recent Development
Narendra Modi, after returning from his trip to the African nations, immediately called for a high-level meeting to discuss the happenings in kashmir. He has appealed to the kashmiri population to maintain peace and not to glorify a terrorist. He also promised complete support from the centre to the state to contain the violence. Moreover, the security forces have been increased in the valley to check insurgency.
Do you have something to add to this story. Write in the comment section below.