Valentine's week has begun and no one gives a damn about how it started and why stupid humans celebrate it. Honestly, it is no big deal, okay? We don't need this kind of negativity in our lives, I swear!
Yes, you guessed it right I just had a breakup and I have all the rights to act cranky.
But with the abundance of free time after my breakup, I couldn't help but come up with this brilliant argument as to why we shouldn't celebrate the valentine's week.
Rose Day – (7th February)
My 5th-grade teacher told me it is mean to pluck flowers because plants also have feelings. Talking about feelings, my boyfriend has hurt me really bad and now I understand how it feels. I would, in fact, like to request the entire humankind to stop this cruelty against innocent plants. This valentine's, let's go green.
SAVE TREES. SAY NO TO ROSE DAY!

Propose Day – (8th February)
Propose day has a very serious impact on our environment. It is impossible to believe but let me explain.
There are 7 million people in the world. Let's say there are 3 million nut heads who actually celebrate propose day, how many of those proposed actually receive a positive response? Have you ever wondered about that?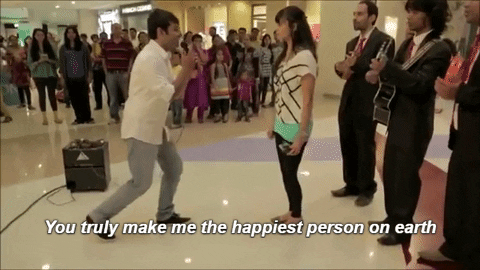 No. You only think about yourself. Millions of innocent hearts are broken on this cruel day. For them, the world turns into a really sad place where no one cares about their feelings. With so many people shedding tears on this day, what do you think is the general environment on the Earth? It is grim. Ever heard about how your psyche affects your surroundings?
Even aliens can feel the sad vibes coming from Earth.
SAVE GOOD VIBES. SAY NO TO PROPOSE DAY.
Chocolate Day – (9th February)
I can give you a number of reasons as to why celebrating chocolate day is inhuman.
Do you know cocoa farms are one of the most child labor intensive spots? No, of course, you didn't know because 5 Star- 'Jo Khaye Kho Jaye'.
SAY NO TO CHILD LABOUR. SAY NO TO CHOCOLATE DAY.
Teddy Day – (10th February)
Teddies are for kids. Honestly, peeps! But if you still need a better reason to boycott this bizarre festivity then I have got you some wise words coming from Spencer W. Kimball himself.
There are so many people going into depression because nobody loves them and here you are showering love on teddies. Shame! Go on hug some human, make their day for humanity's sake!
Promise Day – (11th February)
There is no human soul on the face of this Earth who hasn't broken a promise. No one understands the sanctity of promises. And if someone does understand, I promise that person isn't celebrating promise day.
Promises depend on convenience nowadays. If I can keep a promise I will, but if it demands any extraordinary sacrifice I wouldn't be sure, which is fair enough. Then why to celebrate such a redundant concept?
SAY NO TO HOLLOW PROMISE DAY. SAY YES TO PINKY PROMISES.
Hug Day – (12th February)
Hug whoever the f*ck you want whenever the f*ck you want. Ain't nobody needs a day for that. Warm hugs are good for boosting confidence and morale. We should develop this habit of hugging our loved ones at regular intervals. One day full of hugs sounds absurd. We deserve a lifetime full of hugs <3
SAY YES TO ETERNAL LOVE. SAY NO TO HUG DAY.
Kiss Day – (13th February)
If anyone feels happy about this day, it is for creeps and perverts. If you want to kiss or be kissed, just do it. Don't act like it is a kiss day obligation when you had been dying for it all your life. Such underconfidence, much insecurity!
SAY NO TO PLANNED KISSES. SAY YES TO SPONTANEOUS KISSES.
Valentine's Day – (14th February)
Sounds kind of like fu*king doomsday to me. But here's the TRUTH OF THE MILLENIUM right in your face
Valentine's day is a capitalist agenda!
It's true. These market forces want you to celebrate your relationship anniversary on a random day in February when in fact you guys got together in March or September(who cares?! but you get my point). They want you to gift each other diamonds for no good reason. They are making you book a table in an expensive restaurant for spending a lovely evening with your partner when all you want to do is get rid of his/her bullshit.
Or maybe let's say you both are in love with each other for real. The bourgeois are making you materialistic while you should be growing spiritually together.
Do you understand the conspiracy now?
SAY NO TO VALENTINE'S DAY. SAY YES TO BETTER DAYS.
What's your view, write in the comment section below.
Featured Image: Source